~ BioTalent Canada
Earlier this year, BioTalent Canada, with the support of the Government's Status of Women Canada program, announced a new project Connecting and Advancing Women in the Canadian Bio-economy to connect and advance women in biotechnology; which is typically classified as a "non-traditional" industry.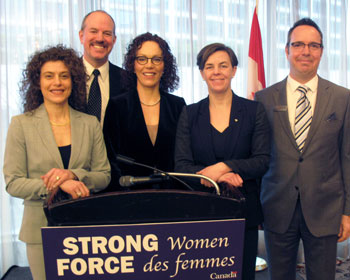 The three-year project, which was recently spotlighted in Scientific American Worldview magazine, will engage stakeholders to identify the challenges and needs on how best to assist women in entering the  bio-economy and  support local networks of women in Vancouver, Toronto, Charlottetown and Montreal. These networks will allow women currently working in the bio-economy, who are looking to break into the industry or who are considering the bio-economy as a career option for networking and receiving guidance from like-minded biotech professionals. The announcement was made on March 3, 2014 at a special networking breakfast event in Vancouver hosted by Life Sciences BC.
 "Women constitute over 60% of physical and life sciences post-secondary graduates in Canada, yet according to our recent 2013 labour market study – Sequencing the Data, the number of biotech companies that hire women has decreased  by 11.5% in the last five years – this represents a significant lost talent pool," says Rob Henderson, BioTalent Canada's President and CEO. "Skills shortages and access to talent continue to impede the industry, so being able to connect and advance career opportunities for women in the industry will help address these skills gaps so companies can focus on commercial success."
Working with project industry partners, BioTalent Canada will conduct a needs assessment to identify key challenges women face when integrating into the bio-economy, particularly institutional gaps, as well as supports. The organization will develop local networks through which women and stakeholders will work in partnership to develop sector action plans. Strategies to be implemented as part of these local plans could include reviews of human resources policies and mentoring. BioTalent Canada will identify and publish the success factors and recruitment profiles of successful women in the bio-economy. Project partners include: BioQuebec, Centre for Drug Research and Development (CDRC), LifeLabs, LifeSciences BC, Life Sciences Ontario (LSO), Ontario Bioscience Industry Organization (OBIO), PEI BioAlliance, British Columbia's Student Biotechnology Network, and Women in Bio.
For more information on this project please visit www.biotalent.ca/connectingwomen.