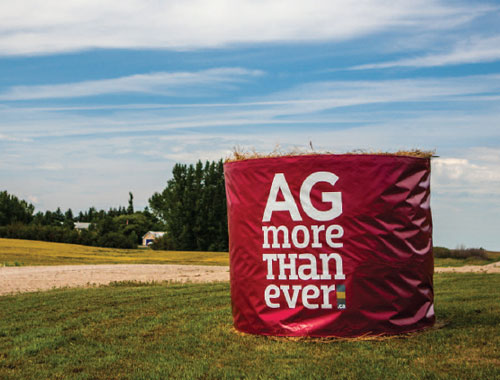 A new initiative underway invites you to champion the agriculture industry and play a role in changing perceptions about agriculture.
Agriculture More Than Ever is a multi-year industry initiative to improve perceptions of agriculture in order to assist the industry to reach its full potential and ensure its long-term viability. Ag-West Bio is ready to join the conversation as a partner of Agriculture More Than Ever, and we hope others will too!  
Image matters To attract the people, skills and investment needed to meet the growing demand for food, those of us involved in agriculture have a responsibility to promote the industry. Agriculture is one of Canada's largest employers and a contributor of more than $130 billion dollars to our national economy. We can't ignore challenges, but when we discuss agriculture, we can choose to focus on the optimism and positive side of the industry.
Agriculture More Than Ever asks those involved in the industry to champion agriculture by engaging in more frequent discussion regarding what's going well within the industry – filling in information gaps, responding to misguided perceptions and telling the success stories about the industry, online and offline. The way we portray agriculture has a direct and powerful effect on how the public views our industry. We know that Canadian agriculture is a modern, vibrant and diverse industry, filled with forward-thinking people who love what they do. So, the role of Agriculture More Than Ever is to serve as a catalyst to get people talking about the opportunities and promising future that the industry has to offer.  
How can you get involved? You're involvement can start today with a simple commitment to help share positive stories and change the conversation about the industry with friends, family and others. You can also check out the Agriculture More Than Ever website at www.AgricultureMoreThanEver.ca. The site was launched last spring to provide a forum for visitors to share their stories about agriculture, hear from others and even learn something new about agriculture that they may not have known before in the facts section.
While on the site, take a few minutes to share your story about agriculture – whether it's why you love the industry, what you do or just a few lines about what agriculture means to you. And, this doesn't just have to be in writing – photos and videos are also welcome. There are also a variety of promotional items available for purchase to show your support for Agriculture More Than Ever and the industry.
Follow Agriculture More Than Ever on Twitter at @AgMoreThanEver and "like" the initiative on Facebook at www.facebook.com/agriculturemorethanever. That way you'll be in the know on all of the latest Agriculture More Than Ever updates.
Agriculture has never mattered more to Canada and the world. It's time to tell the real story about agriculture and we welcome you to join us to help champion the industry!