by Brianna Hudson
With more than 1,200 attendees around 35 countries, the 10th Annual World Congress on Industrial Biotechnology was held June 16th to 19th in the beautiful city of Montreal. Ag-West Bio led a delegation from Saskatchewan, hosted a workshop and participated in the trade show.
Brad Bly (Director of Commercialization) and Brianna Hudson (Events Assistant) represented Ag-West Bio. The World Congress on Industrial Biotechnology is the world's largest industrial biotechnology event for business leaders, investors and policy makers in biofuels, bio-based products, and renewable chemicals.
The 2013 theme was Linking biotechnology, Chemistry and Agriculture to create new value chains. This year's trade show floor was sold out with more than 50 organizations participating. The Saskatchewan Biosciences booth was organized and hosted by Ag-West Bio with funding provided by the Saskatchewan Ministry of Economy, and also represented Linnaeus Plant Sciences and POS Bio-Sciences.
The Saskatchewan Institute of Applied Science and Technology (SIAST), Saskatoon Regional Economic Development Authority (SREDA) also sent representatives who attended numerous businesses partnering meetings, workshops, plenary sessions, and networking receptions.
Ag-West held a daily draw for a biodegradable iPhone case, the PELA Case, developed by a Saskatchewan company, Open Mind Developments. Once again the Saskatchewan Bioscience Resource Guide was a major hit at the conference. The publication serves as an excellent showcase of Saskatchewan's research and infrastructure.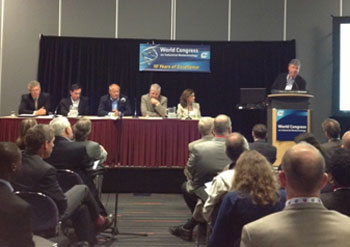 A major highlight for Saskatchewan (and Canada) this year was a workshop called Building the Aviation Biofuels Supply Chain Network. The workshop was co-hosted by Ag-West Bio, Agrisoma Biosciences and Saskatchewan Ministry of Economy, a first for the Saskatchewan organizations.
With over 65 delegates in attendance and a full house, the workshop was a huge success for Saskatchewan as it showcased Saskatchewan-based Agrisoma's development story leading to a historic event on October 29, 2012, when the world's first 100% biofuel flight took place over Canada's skies. The plane was powered by renewable fuel made from Agrisoma's carinata-based Resonance® feedstock. Applied Research Associates and Agrisoma Biosciences have partnered with the National Research Council of Canada (NRC) to develop a sustainable source of renewable energy for the commercial airline industry.
The workshop focused heavily on the network of Canadian stakeholders who partnered with Agrisoma throughout its development history, and closed with a Q&A panel discussion moderated by Jim Lane, Editor of Biofuels Digest, discussing the challenges and opportunities of the development of aviation biofuels, and the options and benefits of creating a solid supply chain. The conference continues to evolve year by year in its sophistication, focusing on introducing plausible industry goals and objectives, and delving into hurdles and solutions to advance the industry.
The focus is moving steadily toward supporting the development of specialized renewable chemicals, while still maintaining a thoughtful focus on advancing traditional themes in first and second generation biofuels. The consensus from delegates we spoke to is that World Congress is an extremely worthwhile conference. Ag-West Bio plans to continue with significant involvement in the conference next year and beyond.
Photo: The Building the Aviation Biofuels Supply Chain Network Workshop at World Congress showcased Agrisoma Biosciences